62 Powerful Blog Optimization SEO Tips You Need To Get More Clients [A Step-By-Step Guide]
Are you looking to attract clients to your blog from search engines like Google and Bing? And actually get them to engage with and share your content? If so - stick around. Because today I'm sharing powerful blog optimization SEO tips (and much more) to make that happen.
This step-by-step guide covers:
Essential optimization steps to help you find clients (or more accurately, clients find you)
The first and most critical step you cannot afford to skip
How to optimize your content for SEO + 4 other essential elements
Including a total of 62 insanely actionable tips to take your content from typical to top drawer
Ready to start attracting clients on autopilot?
Let's do it.
Note: This article includes affiliate links which means I may receive a small commission at no cost to you if you click through and make a purchase. For more information, please see the Affiliates section of my Terms of Use here. 
What is content optimization?
Depending on who you ask, "optimization" can mean a variety of things. So let me clarify. Today I'm talking about specific actions you can take that help your post:
Get seen by more potential customers aka optimize for search engines so people looking for that information find you
Establish your expertise and authority by creating an engaging post that informs and answers readers' questions
Keep your audience coming back for more by formatting a visually appealing and easily digestible post
Reach the widest possible audience by including elements that encourage sharing
The reason you create content in the first place is to help your audience find you, communicate how you can help them, and demonstrate that you're an expert, right? 
Well, using these blog SEO optimization tips to polish your content will give it the very best chance to accomplish those goals.
How optimizing helps you find clients
(or more accurately - clients find you)
Here's what Google says about keywords (emphasis mine):


"The most basic signal that information is relevant is when a webpage contains the same keywords as your search query. If those keywords appear on the page, or if they appear in the headings or body of the text, the information is more likely to be relevant."
In other words, when your page contains the actual keywords or phrases your potential clients use when they search, Google is more likely to choose your page to display.

There are other factors, of course, but including good keywords is crucial to being found.
So it pays to know what words and phrases your ideal clients use when they are searching for the products or services you provide.
Although it's not the only kind of optimization I'm going to talk about today, search engine optimization (aka "SEO") is the Big Kahuna of the optimization process. Because if our post doesn't get found in search, the rest is kind of irrelevant.
And that leads directly to my next point, which is. . .


Keyword Research
The most critical step you cannot afford to skip
So now we know. If we want to be found when our ideal clients are searching for us, we need to have the keywords and phrases they actually use on our pages.
But how can we know that?
With keyword research, of course! Which is the first and most important step you cannot afford to skip.
When you take the time to research keywords for your post, you exponentially increase your chance to be found by your intended audience.
According to ImproveMySearchRanking.com. . .
"Businesses that have an SEO optimized website bring more customers and grow twice as fast as businesses who do not have one."


I think we can all agree that's something worth optimizing for! With that in mind, when you do your keyword research:
Identify your focus keyphrase : Preferably long-tail

. This is the primary keyword you will be optimizing your post for. Note that each blog post or page you are optimizing should have its own unique focus keyphrase. It's okay if they are very similar - but only one page per focus keyword. Got it?
Find keyword synonyms : Similar keywords and phrases people are searching for that mean basically the same thing as your focus keyphrase.
Include related search terms : These are search terms related to your primary keyword.
PRO TIP: An easy way to find them is to look at the bottom of a Google search results page at the "Searches related to" section.
Including these 3 types of keywords in your post will help search engines understand what your post is about and serve it up to more people who are looking.
NOTE: I am not going into the details of how to do Keyword Research here. That is a whole post unto itself. But check out these resources to get you started. 
---
Articles:
Tools:
---
High-Quality Content
Quality is better than quantity and that's good news for you.
Now that we've agreed that keyword research is nonnegotiable, let's move on to the actual content of your post.
High-quality content is widely accepted to be a major SEO ranking factor. This means it pays to take the time to create epic content that actually:
Answers the questions your audience is asking
Provides information they need
And is well-written and researched
How is this good news?
Creating comprehensive posts may feel like more work, but in the long run, it's actually less.
That's because when you take the time to produce epic, value-packed, evergreen content, you can create less of it overall. And it will continue working for you over the long haul.
Plus, that epic content can be repurposed into a variety of smaller, snackable bits of content that will keep your editorial calendar humming.
Finally, longer, more in-depth content is more often shared and linked to, so it's more likely to help you reach your goals. It's a win-win-win all the way around.
So how can we do that? What does "quality" even mean, exactly?
Well, that's the real question, isn't it?
Since the Panda update in 2011, Google has made it clear high-quality content is prioritized. But it has not defined exactly what "high quality" means.
However, beyond just using our own good judgment, a bit of research does provide some specific actions we can take to create high-quality content for both our readers and search engines.
Longer is better : It is well established that Google prefers longer content. Currently, about 2,000 words is the sweet spot. But don't get wordy just to fill the page. Write comprehensive content with clear, concise sentences (see the Readability section below for more on this

).
Correct spelling and grammar : Studies suggest

that up to 60% of consumers will not make a purchase from a brand with poorly written content. That means proofreading for spelling and grammar

is essential.

 
Informative : Make sure your content answers questions your audience is looking for or shares new insights they may not have seen before.
Trustworthy : Does your content inspire trust and belief in the reader? Some ways to establish authority in your content are:
- Ensure what you say is true.
- Back up claims with links to reputable internal and external sources.
- Take the time to completely explain your position or statements.
_ Sprinkle testimonials across your entire site (not just on a single page), if you have them.
Avoid fluff : Don't restate the obvious. Instead, strive to provide insightful analysis and interesting or useful information.


Use keywords naturally : 

Do not keyword stuff

.

That hasn't helped since the early days of blog optimization. These days, keyword stuffing will reduce your ranking instead of increasing it. 

Work your keywords into sentences in a natural way that makes sense and flows with the rest of your article.
Write for people : Always remember to write for actual readers, not search engine spiders. Google pays attention and will reduce your site ranking when they see readers click away immediately, never to return. Your goal is to make your post engaging for humans. 

Doing that will satisfy both your audience AND the search engines.
Know and understand your audience : You could be the best writer in history. But if your content is not something your audience is interested in, your engagement is going to suffer.

Figure out:
- who your audience is
- what their problems and struggles are
- and what they want to learn
And write about those things in ways that actually help them move forward. 
Use good design and UX : No matter how great your content is, the power of your blog will be lessened without good UX and design. The design is what brings your post to life and creates an experience that your readers will remember. 


---

Resources: Quality Content
Articles:
The 10 Ingredients Of Great Content Writing – Neil Patel
Tools:  Grammarly.com


---
Blog Optimization SEO Tips
How to make search engines (and readers) love you
Many people struggle with search engine optimization. Hence, this article filled with actionable blog optimization SEO tips.
So, if you're looking to write SEO-friendly blog posts - this is your section. Below, I share specific blog optimization SEO tips and strategies that will help your content achieve maximum success.
It's not required to use each and every one of these tips. But the more you incorporate, the better your results will be.
Ready? Let's get into the nitty-gritty.


Optimize Your URL:
Keep your URLs short : Shorter URLs help your search engine ranking. Hold up though - that doesn't mean you should use a shortening service like Bit.ly. It just means your content URLs should look like this:
yourdomain.com/focus-keyword-phrase
instead of this. . .
yourdomain.com/blog/2020-06-15/category/your-very-long-blog-post-title
See the difference?
The first is clear, easy to understand, easy to remember, and more likely to be shared. The second one makes your eyes cross by the time you reach the date.
But even more importantly, search engines will include every word in your URL when deciding what your post is about. So all those extra words confuse the issue and can actually reduce the ranking of your post.
So keep your URLs short and to the point to keep both your audience and the search engines happy.
👉PRO TIP: One easy way to shorten your URL is to leave out words such as "and, or, but, of, the, a", etc. (known as "stop words"). Search engines don't need them and they can help you pare your URL down to a lovelier length.
Note: If you use WordPress, you can easily change your URL structure with the Permalinks setting. But remember - if you have existing content, you need to use 301 redirects to avoid losing all your current Google juice.


Avoid dates in your URL : Not only do dates make your URL longer, but they also imply that the blog post is only relevant around that date. Which is something both humans AND search engines will assume. Keep dates out of your URL to give evergreen content its longest lifespan.
Put your focus keyword in your URL : A gold star for you if you noticed the URL example above was "focus-keyword-phrase" instead of "blog-post-title." 
That's because your title should be optimized for readers (more on that in the next section), but your URL should be optimized for your keyword phrase. This reinforces the keyword for search engines.
And nope - your title and your URL don't need to be the same. In fact, if they are each optimized properly, they very often won't be.
Make URLs readable and descriptive : This one is easy to demonstrate. Which of these URLs makes you want to click through and read the post?
http://mydomain.com/adorable-kittens-playing
http://mydomain.com/cat/post?ID=892&kittens-playing

http://cdn12.mydomain.cc/9ao031-0fe309alknpdn13=kmn3&12OIk3



The first one tells you exactly what it's about. You can guess the second one. But the third one gives zero hints.
Be like the first one as much as you can.
Optimize Your Title:
An optimized title is an essential element of your post. It's what catches your reader's eye and convinces them to click through and read. So it's worth taking some time to get it just right.
If you did your keyword research first, you may already have a functional title in mind that tells what the post is about. But that should rarely be the one you end up with.
Here are some tips to make the most of your blog post title and hopefully increase that organic click-through rate (CTR is yet another ranking factor for Google).


Make it clear your post is comprehensive : To let your readers know that your post is in-depth, include words such as:
Guide
Ultimate

Definitive

Step-by-step

Complete
You get the idea.


Include an odd number : Titles with numbers get +20% more clicks than those without and for some reason, odd numbers get the most of all. So, if it makes sense for your post, include an odd number.
This doesn't just apply to list posts either. You can use a stat percentage or something else, as well. Experiment and see what works for you.


Use brackets or parentheses : Here's another quirky one! Titles that include brackets or parentheses get nearly 40% more clicks than those without. Weird, right? But a super easy way to boost that organic CTR.


Use emotionally powerful words : Catch your reader's eye with uncommon words that evoke an emotional response. Doing this is more art than science, I find.
Brainstorm as many variations of your title as possible, then run them through the Emotional Marketing Value (EMV) Analyzer to see how you did. Keep tweaking until you get at least a 20% rating - and as much higher as you can without spending a week on it.

Flip positive to negative : Some studies suggest that a negative headline can get more click-throughs than a positive one.
For example, instead of  "Best Practices for SEO Titles"
you might try "These Mistakes Are Killing Your SEO."
As always, experiment and see if it works for you.
Ask a question : Can you phrase your headline as a question?
Create curiosity by changing your headline from "How birds migrate" to "Where (or Why) do birds migrate?"
You've probably noticed the Featured Snippets that Google now shows when you search for the answer to a question.
Snagging the coveted Featured Snippet spot is practically guaranteed to increase your traffic. And starting with a question is the very first step.
---
Articles:
Tools:
---
NEVER MISS A TRICK - DOWNLOAD THE PRINTABLE CHECKLIST
---
Place Keywords Strategically:
Aaaand, we're talking about keywords again.
As discussed above, your keyword research should be complete before you start writing your post. So at this point, you know which keywords and phrases you want to use in your post. Right?
Now let's talk about where to put them.
Obviously, you can sprinkle them throughout the text of your post, wherever they fit. But there are a few specific placements that can really make a difference in your SEO results.
They are:
Focus keyphrase in the first 100 words : Make sure to include your focus keyphrase in the first 100 words of your introduction to help search engines understand what your post is about. 
Title tag (in your meta details) : As mentioned above, your headline doesn't have to match your URL exactly. But it should include your focus keyphrase. And if possible, near the beginning of your headline. 
URL : Make sure to include your focus keyphrase in your URL. It's okay for your Title and URL to be different, as discussed here.

 
Headers and subheaders : Using your focus keyphrase or synonyms in your Headers and Subheaders is another clear signal to search engines of what your post is about. Include them if you can. 
Meta description : The Meta description is the little preview you see on the Google search results page. 
👉PRO TIP: If you are using WordPress with the Yoast plugin, you can easily edit the Title Tag and Meta description in the Yoast settings on your post edit screen.
Image name(s) : Another great place to include your focus keyphrase or synonyms is the names of your images. But make sure to name them BEFORE you upload them

. Renaming them in the WordPress media editor doesn't really change the image name from a search engine's point of view. 
Image alt text : Add your focus keyphrase in the Alt text for each image. Also, include a brief description of what the image is about for accessibility tool users and search engines (more on this below

). 
Place your focus keyphrase or a synonym in as many of these places as possible to get maximum SEO juice. But as always - only if it feels natural. Shoe-horning them in just makes your blog post awkward and less authoritative.
Plus, you risk incurring the Google keyword-stuffing hammer. And nobody wants that.
---
Articles:
---
Optimize Your Images:
There are a few mistakes with images I see ALL.THE.TIME that will directly impact your results. 
So take note - these are things NOT to do with your images:
Too big. Yes, you want a nice, clear image. But if you upload a completely unoptimized 2500px image, it's going to slow your page loading speed and possibly hang instead of displaying. And when that happens, readers will click away, never to return.


Indecipherable titles. You know how your camera auto-names images things like DSC1204? That is not helping you at all. Neither search engines nor humans get any value out of a name like that.


No Alt text. Alt text aims to tell people using accessibility tools what the image is about. It also helps search engines with the same thing. So, if you don't add any alt text at all, you leave a big blank spot for both your readers AND search engines.
Instead, do this:
Use the right image format. Different formats such as JPG or PNG are best for different types of images. It is definitely NOT one size fits all. 
JPG is usually best for photographs. While PNG is often the best choice for vectors. But always play around to see which one gives you the clearest image with the smallest file size. Then continue to optimize them as below.
Optimize your image size. First, resize your image to the smallest display size that is appropriate for your post.
If it doesn't need to be big so people can see all the detail, then do not make it big. If it does, make it only just as big as it needs to be - and no bigger.
Next, compress the image. There are a ton of free and easy online tools to help with this (see Resources below). Although it's not always possible, aim for a final file size of 100kb or less to keep your page loading quickly.
Name your image BEFORE you upload. Naming your image to match your focus keyphrase is a great way to add it into your post for SEO purposes. But for it to really work, you need to change the name before

you upload it.
Even though WordPress allows you to change it in the Media editor, it doesn't really stick. So, name your images before you upload to make sure Google sees what you want it to see.
Add alt text & description. As mentioned above, the Alt Text and Description are more opportunities to add your keyword phrase. However, the Alt Text should also give an idea of what the image is actually about.
So add your keyphrase, then continue on to briefly describe what the image shows for those who actually need it.
---
Articles:
Tools:
---
How To Improve Readability
Okay, we've talked about search engines and keywords ad nauseam. 
And although the search optimizations we've discussed so far also help readers, there is still more we can do to polish up our post for our human audience.
In this section, let's dive into tips that make your post readable, skimmable, snackable, and downright delicious.
Write like you speak. I'm sure you've seen this tip before, but it's a big one. You need to forget pretty much everything they taught you in school about how to write.
Want your posts to be more engaging? Swap out all those fifty-cent words for a simple, conversational style. Simplifying your content makes it easier for more people to understand.
Plus, your audience will feel you are speaking directly to them when you write. As if you are speaking to a friend. And who doesn't want that? I certainly do.
But when you write your blog posts like an essay or research paper. . . well, that's just no bueno. Best case scenario - you will put your readers to sleep. Worst case? They'll (you know what I'm going to say, right?) click away, never to return.
So, keep it natural, yo!


Keep it short. Don't be like William Faulkner.

Nobody wants to slog through your long-ass paragraph filled with long words and even longer sentences.
Except for the total length of your post, shorter is usually better - for paragraphs, sentences, and words.
For more on this, keep on scrolling . . .


Use shorter & easier words. After you finish your post, read back through and sub in shorter or easier words where possible. Don't sacrifice clarity, but ask yourself: Is there another word that works as well or better than that long one?


Keep sentences short. Generally speaking, shorter sentences are quicker and easier to absorb for readers. Readable.com

outlines exactly what "short" means:
8 words or less = very easy to read
11 words = easy
14 words = fairly easy
17 words = standard
21 words = fairly difficult
25 words = difficult
Use these guidelines as a reminder to edit out the fluff and get to your point when you write.
BUT. . . don't try to only write sentences that are 8 words or less.
For optimal readability, you want a mix of shorter and longer sentences. That doesn't mean *long* sentences, just longER. An entire paragraph of one or the other is just, well, weird.
Don't be weird, use a natural mix. Just remember that shorter is usually better.


Shorten paragraphs. Sensing a trend here? Yep, your paragraphs should be short as well. This is how we avoid the dreaded Wall of Text.
I see this all the time with show notes for podcasts and videos. Giant blocks of text unrelieved by paragraphs, headers, subheaders, or images. Not even an indicator of who is saying what. Ugh ...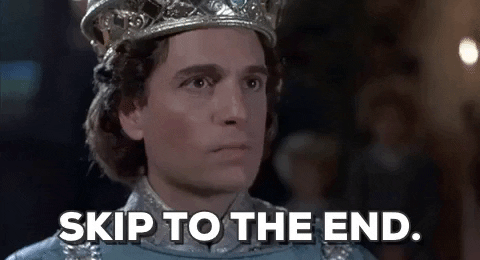 So, whether it's a blog post, a transcript, or whatever - break those paragraphs up. 1-3 to sentences per paragraph is fine.
Remember - white space is your friend.


Use bigger fonts. 
Question: Why do people use tiny little fonts on their blogs? Is there some kind of award I'm not aware of for successfully reading 10-point text from 3 feet away?
Be kind to your readers. Don't make them have to squint to read your site.
You know why? Because they will (say it with me now). . . click away, never to return.


Include white space. As mentioned above, white space is your friend. Having lots of room to breathe makes your content look friendly and inviting. Whereas tight, cramped content is daunting and feels uncomfortable.
Be friendly. Use plenty of white space.
👉PRO TIP: Go browse website design sites. See all the white space they use? Do that.


Break it up. 

Accept this hard truth: the vast majority of your "readers" won't actually read your blog post.
They'll skim.
So if you want to keep them on your page long enough to get to the bottom, you need to make your content Skimmable.
Scannable, 
Snackable.
Gist-at-a-glance.
The way to do that is to break your content up into easily digestible chunks. Here's how:
Use headers and subheaders - and make them clear instead of clever
Bulleted lists
Highlight important words and phrases with bold, italics, colors, or typefaces
One idea per paragraph
Add engaging images to break things up
Break sections up with colored backgrounds
In other words, the longer your post, the more you need to break it up and make it visually interesting. Highlight the most important parts so they can't be missed.
Make it easy for your readers to scan and skim the way they want to. They'll love you for it and come back for more.
What's the difference between Active voice and Passive voice? Here's an example:
Active: I love cats.
Passive: Cats are loved by me.
Of course, there are times when the passive voice is the right one to use. But most of the time, active is a better choice. It's simpler. More clear. Energetic.
Write your first draft however you like. But during editing, try to change some (or all) of the passive voice sentences to active.
Then revel in how much better it is.
---
Articles:
Tools:
---
How To Create Shareable Content
So, here we are with an epic post that's perfectly written, keyword optimized, and so darn readable a blind squirrel couldn't put it down.
It's so beautiful, the whole world should see it! 
So let's make this post uber-shareable so readers can't resist sharing it with all their friends, neighbors, and social followers.
Here we go.
Include sharing buttons. First things first. Cover the basics and make sure you offer easy-to-use sharing buttons on your blog. If you are using WordPress, there are a gajillion plugins

for this if your theme doesn't already include them.
Make sure it's a no-brainer for readers to one-click your awesome-sauce post over to their favorite social platform.
👉PRO TIP: Displaying the share buttons above the fold gets up to 63% more views than those further down the page. 


In fact, just adding one image - ANY image - will boost your credibility by up to 75% and generate up to 94% more views on social media.
But let's see if we can do that one better. Think of the things you like to share when you aren't wearing your business hat (hint: it's probably not some dry article with an overused stock photo).
Professional quality photos, graphics, and infographics are much more likely to be shared than a boring, stereotypical stock image.
Using custom, unusual, or particularly impactful (but always high quality!)  images and graphics can increase your shareability factor. So make an effort to find the right images, not just the most convenient ones.


Add pinnable images. Pinterest can be an incredible traffic driver - IF you optimize for it.

  But you need to remember Pinterest requires a different image format than other social networks.
So, why bother? Because Pinterest pins have a much longer lifespan than posts on other social platforms. They can show up in search results for weeks or months after they were published.
Don't miss out on that practically immortal traffic - make it easy to pin your content.
Note that Pinterest prefers tall images (1000px wide x1500px or any other 2:3 ratio). Make sure you have at least one or two of those embedded in your post for readers to pin.
 👉PRO TIP: Optimizing Pins in your content is super-easy with the Tasty Pins plugin. You can control which image is pinned, make sure an optimized description is included, and much more.


Write longer content. In addition to the benefits discussed above, longer content is 52% more likely to be shared. Aim for at least 2,000 words.


Include multimedia elements. Mix up the media you add to your post. A variety of media is more likely to catch the attention of your audience and inspire a share.
So how can we think beyond the static image?
- Videos
- Charts
- Audiograms
- Slide decks
- Animations or Gifs
- Quizzes
- Music
- 3D Photos
- Infographics
Can you think of other fun interactive content to sprinkle into your blog posts? Tell me what I missed in the comments below.  


Always set a featured image. A post with a featured image is 150% more likely to be retweeted and receive 53% more likes on Facebook.


Add a customized CTA at the end of your post. You know that request for shares at the end of your post? Turns out that customizing that request can improve shares by 42%.

So instead of a generic, "Share this post," try "Share these amazing SEO tips."


Publish between 8am - Noon. Over a quarter (27%) of ALL social shares occur between 8am - Noon EST.
---
---
Finishing Touches
Let's kick it up a notch
Congratulations! 
By now, you should have a gorgeous blog post perfect for sharing and optimized to within an inch of its life. 
Buuut ... if you want all the Google juice you can get, here are a few finishing touches to kick your post over the top. Time to git 'er done. 
Let's be real. Optimizing for search can be a massive understanding affected by seemingly a million factors. That's why there are people who do nothing but SEO. 
The art and science of SEO encompasses everything from your audience, keywords, and search intent to page speed, mobile responsiveness, and domain authority. Plus a bunch of other technical stuff I know nothing about. So, when you want to get *really* serious about your SEO, it's time to get in touch with an SEO expert.  
But until then, there are still some simple things we can do to optimize our blog for client attraction. 
Such as. . .
Have branded social accounts. There are many things that Google looks at to determine the authority of your website. Including a collection of things called "Brand Signals." 
Consequently, one way to show Google that you're a legit brand and not some fly-by-night huckster is to establish a complete online presence.
To do this, create accounts at top-tier social platforms. The list changes as trends evolve, but at the time of this writing, your best bet is to at least have accounts at:
Facebook
YouTube
Instagram
Pinterest
LinkedIn
Make sure you set up your profile completely with a keyword-rich description, add your website link, share blog posts or important pages from your site, and add your physical address, if applicable. Link to 3-5 of the accounts on your website.
Do your best to get the same brand name across all social accounts. If one is already taken, get the next closest option. And be as active as you feasibly can on your favorite platforms.


Collect emails to build your email list. Collecting visitor emails on your website can act as another brand signal to Google. And even more importantly, it's a first step to taking your visitors from mildly interested to happy customer. 
So setup up a way for viewers to sign up to receive your emails and stay in touch.


Have a mobile-friendly website. 

Mobile responsiveness is more important than ever

.

Your audience is using phones and tablets to access your content more and more every day. 
If your site is not mobile responsive, you are definitely losing viewers. 
An easy way to achieve this with WordPress is to install a responsive theme. If you're using Simplero, your site will be automatically responsive. 


Get backlinks. A backlink is when someone links to your website from their website, usually to some specific content you published.
Search engines see these links as "votes" for the pages that get backlinks. The more backlinks you have from high-authority sites, the more Google juice you get. 
Getting backlinks can be challenging, but it's a goal worth chipping away at over time. See the Resources below for help to get started. 


Update and optimize old blog posts. This one is my favorite! 
Applying the tips in this post to new posts is great. But don't forget about your existing content. For exponential results, update and optimize your older blog posts to get even more traffic. 
See Resources below for a free tool to find the best posts to refresh. 


---
Resources: Finishing Touches
Articles:
Tools:
---
BONUS: The Importance of Visuals
Why images visuals are worth a thousand words)
Maybe you've noticed how many times some type of visual has come up in this post. They've been mentioned in nearly every single topic encompassed by this article.
So I decided that visuals deserved a section all their own. And when I say visuals, I'm including graphics, photos, infographics, videos, and more.
Let's look at how visuals help your blog posts be awesome. You'll quickly see the benefit of taking time to find, optimize, and include great visuals in your posts.
Engagement with visuals continues to grow
Images encourage sharing.
The human brain processes visual input better than any other sense.
(By the way, everything here - bounce time, average time on site, back links, etc. - are Google ranking factors.)
How to leverage the power of visuals
It's clear that visuals are a critical element we can't afford to ignore for our blog. But how to distill all these stats and figures into actions?
Not to worry. I've got you covered.
Include a relevant visual for every 75-100 words in your post.
Don't worry. You don't have to be anal-retentive about it and carefully place one visual every 75-10 words. Instead, just figure out the total word count in your blog post. Divide by a number between 75 and 100 (your choice) and make sure your post includes that many visuals.
Remember, that can be a mix of photos, gifs, infographics, memes, videos, etc. Mix it up! 
BUT - they need to be relevant. Random visuals will not get you where you want to go.


Add an image to every social post.
Always include an image when you post on social networks. Preferably the most interesting, unusual, or relevant one.
Except possibly LinkedIn. There is some talk that LinkedIn is seeing good engagement with text-only posts. 
As with anything, test things out and see what works for you. Your audience might be the one that loves text-only. 


Use summary cards with a large image when you share to Twitter.
You can add Twitter cards to your blog posts in two ways - either manually adding the code via the WordPress Text editor or via a plugin. See the Resources section below for details. 


Include relevant pinnable images.
Images don't *have* to be tall (Pinterest preferred format). But you will get better engagement with them after they are pinned if they are.
So make a point to include some Pinterest-friendly images in your post to encourage that sweet, sweet long-term Pinterest traffic.


Try "picture list" posts.
Picture lists are an easy way to create ever-popular list posts. And they have the added benefit of requiring less writing. 
But - curating great images can be the key to success with many types of posts. See the Resources below for a how-to.


---
Resources: Visuals
Articles:
Tools:
---
Implementation Is Power
Your turn
Now, over to you!
I created this guide to help you leverage the power of SEO and optimization for your own blog.
But it only works if you take action. 
I challenge you to implement as many of these tips over time as you can so you can enjoy the results.
👉PRO TIP: Don't try to do everything at once. Start by adding a few tips into your usual workflow. Then add more after those feel easy. 

---

NEVER MISS A TRICK - DOWNLOAD THE PRINTABLE CHECKLIST:
---
Share these epic optimization tips:
Note: This article includes affiliate links which means I may receive a small commission at no cost to you if you click through and make a purchase. For more information, please see the Affiliates section of my Terms of Use here.